Bolnuevo erosions or Gredas de Bolnuevo

The Bolnuevo erosions are natural sandstone sculptures
One of the best known features of Bolnuevo are the erosions, or gredas, of Bolnuevo, known as the "enchanted landscape", a curious formation of naturally sculptured rock formations behind the main beach.
These limestone shapes have been formed over millions of years by wind erosion, and seem almost like modernist sculptures. The white clay of which they consist is a mixture of silica and aluminium, and is widely used in pottery.
The wind erosion has been made more powerful by the fact that the air carries particles of sand and seawater, and this is what has sculpted the rocks into such a magical landscape, reminiscent to many people of giant mushrooms which seem to defy the laws of gravity. Often the rocks are the backdrop for shows and concerts during the local fiestas, and many people even choose to have their official wedding photographs taken there.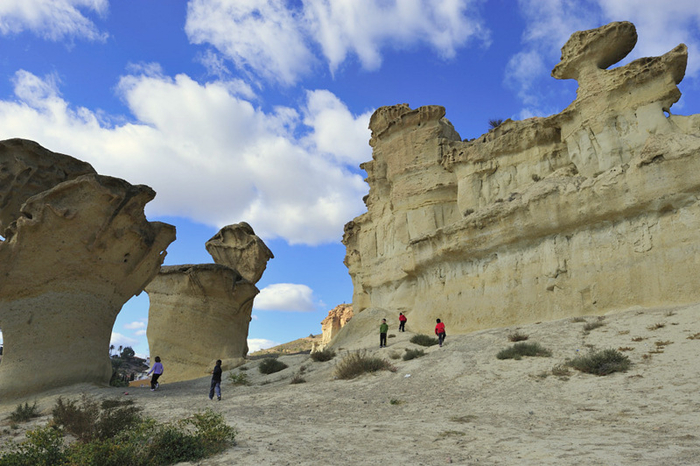 The erosions are found at the far end of Bolnuevo's huge beach, just before the point at which the road climbs up around the headland, then drops down into the Sierra de las Moreras, and a long stretch of spectacular wild beaches and virgin coastline which extends as far as Águilas. Its well worth stopping to photograph the erosions, before heading over the top of the headland and into the Sierra or beaches beyond for a walk.
There are plenty of restaurants in the main area of Bolnuevo for a meal afterwards or a drink.
Click for map: Erosiones de Bolnuevo (also referred to as the Gredas de Bolnuevo or the Ciudad Encantada de Bolnuevo)
Click Mazarrón beaches to see more information about what lies beyond the Bolnuevo erosions!
For more information about Bolnuevo itself and a map, click Bolnuevo
Contact Murcia Today: Editorial 966 260 896 / Office 968 018 268